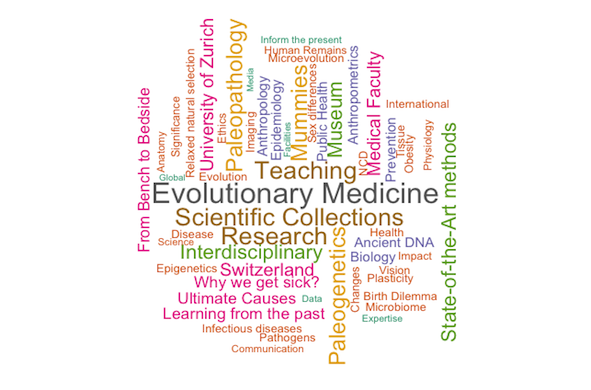 The Institute
In September 2014 the former Centre for Evolutionary Medicine (ZEM) was upgraded to the new Institute of Evolutionary Medicine (IEM). The IEM is a leading international and globally connected research, teaching and service institute which is part of the medical faculty at the University of Zurich. Researchers at the IEM analyse ancient biological material and associated data to better understand modern human health issues and diseases.
Due to specialist scientific expertise, excellent infrastructure and state-of-the-art methods, researchers at the IEM are able to work on interdisciplinary research questions in the field of Evolutionary Medicine. Some general research questions are:
How does the past (for example, the evolutionary origins of diseases) inform the present (and the future)?
How does clinical medicine benefit from studying the evolutionary perspectives of diseases?
How do evolutionary vulnerabilities of human anatomy/physiology contribute to disease susceptibility and progression?
How effectively do ancient samples, such as skeletal and mummified remains, act as a major source for the study of the evolution of disease?
Evolutionary Medicine truly represents interdisciplinary science, and has significance, for a variety of specialised clinicians and general practitioners. At the IEM, researchers work together from fields as varied as medicine, anthropology, paleopathology, ancient DNA and proteomics research, veterinary sciences, Egyptology, history, epidemiology, human morphology and imaging. As one of the institute's main areas of interest is the study of historical human remains and mummified tissue, the IEM also favours a continuous reflection on ethical standards in relation to highly invasive procedures and the ethical dilemmas that arise from holding, preserving and using historical remains.
The institute includes three main research units: The Ancient Biomolecular Group, the Evolutionary Morphology and Adaption Group and the Paleopathology and Mummy Studies Group. A state-of-the-art aDNA clean Lab, multiple imaging facilities and a "Clinical Skill Lab" for transitional clinical research are also attached to the IEM, as are numerous local and international facilities and experts in the form of collaborations. In addition, competitive grant opportunities (the annual IEM-Grant) have been established. Members of the IEM are involved in a broad range of lecturing and teaching at various faculties at the University of Zurich.
As planned the IEM will also operate the new public Museum of Medicine of the University of Zurich and curate a broad historic collection of medical objects on behalf of the greater scientific community from 2017. Find more basic information about the IEM under its Vision, the Mission Statement or the Institute Structure.
---
Photographs: Kommunikation UZH; Zürich Tourismus; iStockphoto; Flickr; Siemens; ZEM